Jontay is the less famous of the Porter brothers but that changed a bit last season when Michael, Jr. went down in the opener with a back injury that eventually held him out for pretty much the entire year.
The six-foot-11 stretch big was a heralded prospect himself – ranked 11th in the 2018 high school class[1] before deciding to reclassify and join Missouri a year earlier, but was not expected to end up a one-and-done prospect, which he will after Sports Illustrated's Jeremy Woo reported the 18-year-old[2] intends to hire an agent and forgo the remainder of his college eligibility.
In his one year in Columbia, Porter compiled a very impressive statistical profile, as he averaged 16.1 points, 11.1 rebounds, 3.7 assists and 2.7 blocks per 40 minutes[3].
His game features the old ways of low post scoring, offsetting his limited athleticism with immense skill, footwork and IQ, and the modern perimeter skill-set of your prototypical stretch big.
He might still be in his brother's shadow come draft night, but there's a good chance Porter ends up being a heck of pro himself. His potential is clearly immense and whichever team selects him will hope to mold him into a David Robinson-esque big, even though he will probably never reach those lofty highs.
Porter really stands out on offense thanks to his shooting ability at this size. He took 46.2% of his shots from three-point range and nailed 36.4% of his 110 attempts, at a pace of 5.4 such looks per 40 minutes.
The lefty is an effective catch-and-shoot floor-spacer on spot-ups but can also launch long bombs out of the pick-and-pop, aiding the shot creation process by opening up driving lanes at the point of attack.
He is not simply a tall shooter opponents can feel comfortable switching aggressively or guarding with smaller players, though. Porter can take his man to the post and does well creating offense with his back to the basket, whether it's scoring or finding cutters and shooters drifting around the wing.
You can tell he's been guided by someone with NBA experience before[4], given his great basketball IQ and overall feel for the game. He has a sense of when double teams are locking in on him, can see the floor and spot teammates becoming open, and gives up the ball before the opponent can trap him – assisting on 19.5% of Missouri's scores when he was on the floor last season[5].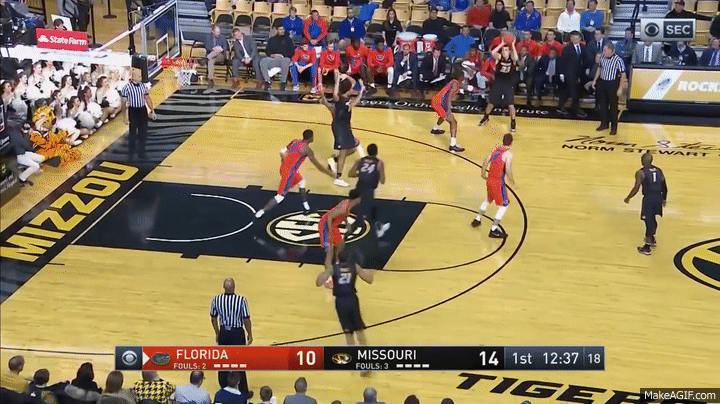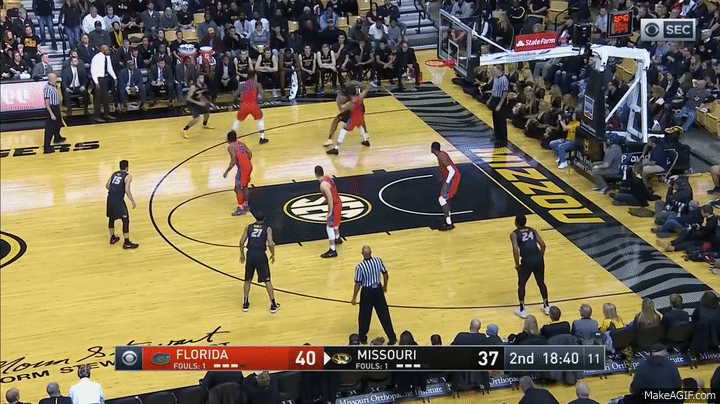 Porter can also make the extra pass around the perimeter, was used as a hub to facilitate offense from the high post when the opponent zoned against Missouri and flashed the awareness to pass ahead in transition to speed up the pace of the game.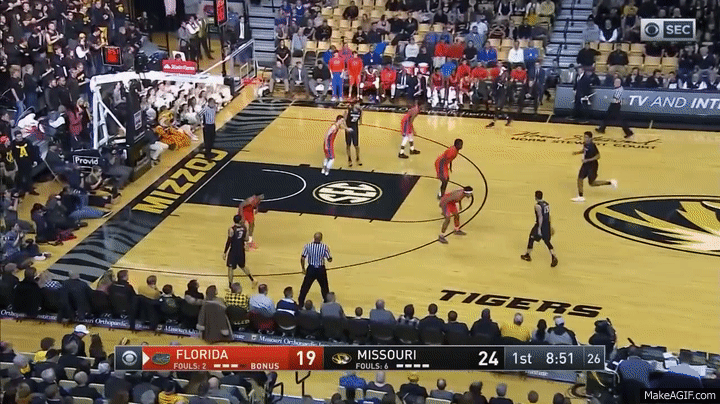 As an interior scorer, Porter showed a patient approach in the post and more nimble feet than his 240-pound frame suggests. He is strong enough to set deep position, can get his man out of position with fakes and has great touch on side finishes, converting on 60% of his 40 attempts at the rim, which is vital because Porter is not a high leaper and won't be making baskets over contests very often.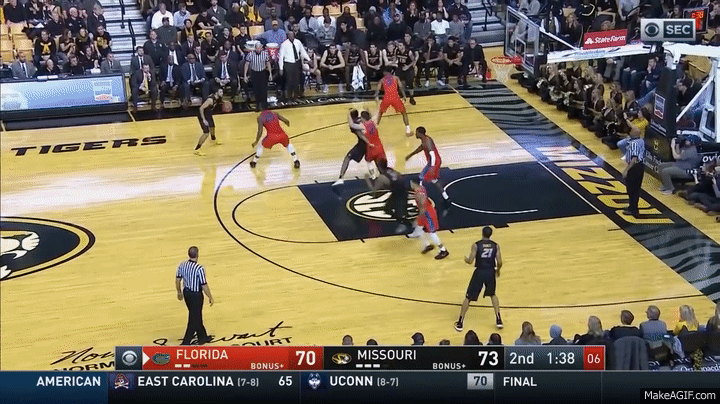 Porter can't play above the rim as a target for lobs, taking just 16.8% of his shots at the basket, which limits his effectiveness diving down the lane in the pick-and-roll or roaming near the baseline in the dunker spot. His role as a floor-spacer took him away from the offensive glass but even in the instances where he went after a miss, Porter didn't show a particularly impressive second jump.
His lack of athleticism is more of a cause for concern on the other end, though.
He could be a liability in the pick-and-roll, as he was in the game against Florida, which had the shifty guards and the driving lanes to take advantage of his lack of lateral quickness out in space.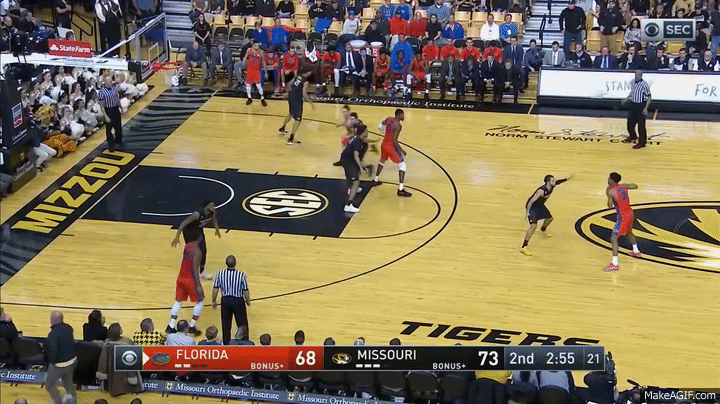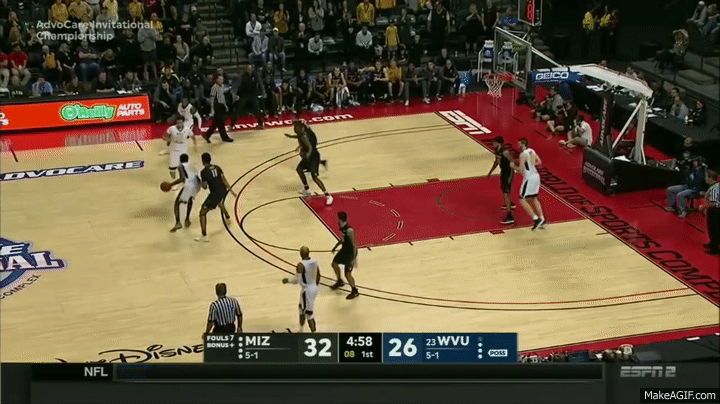 He could be a liability in the pick-and-roll, as he was in the game against Florida, which had the shifty guards and the driving lanes to take advantage of his lack of lateral quickness out in space.
His lack of vertical explosion also draws questions regarding his ability to protect the rim. Porter was able to overcome that problem in college thanks to his awareness and length, blocking 7.2% of opponents' two-point shots when he was on the floor – a superior block rate than better athletes like Deandre Ayton and Marvin Bagley, III. But he will be more stressed in the pros. Too often you'll see him hesitate to block a shot, even if he's in position to beat his man to the rim.
Porter is a productive rebounder but not a dominant one, collecting 23.1% of opponents' misses when he was in the game but not always attentive to his boxout responsibilities , at times getting caught staring at the rim and getting outworked to the ball.
But what he lacks in athleticism and quickness, Porter makes up for with effort, length and awareness. He is attentive to his responsibilities coming off the weak-side in help-defense and does well on closeouts, even proving himself able to block a few jumpers.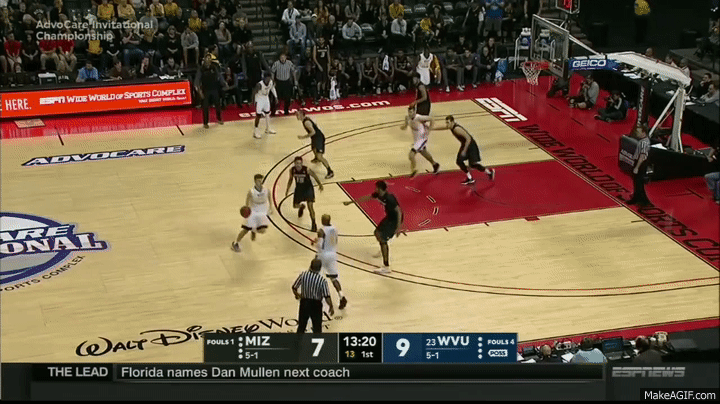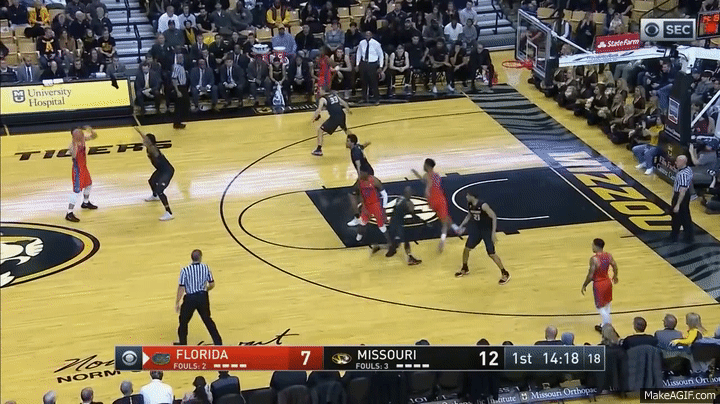 At the end of the day, Porter was an effective defender in college, despite his athletic limitations. He led the team in defensive rating among rotation players and Missouri defended far better with him on the floor than with on the bench[6].
Ultimately, I'm not sure Porter is a can't-miss prospect but he's definitely someone I'd want on my roster. He's a stretch big who can burn switches and make plays out of the post, while carrying his weight on the other end and even offering some potential to anchor an elite defense if his shot blocking translates.
I view Porter similarly to Kelly Olynyk – not the best player on any team but a key cog in the rotation and someone who can offer lineup flexibility. Porter doesn't shoot as well as Olynyk at this point of his development but should probably end up picked around the same range in June.
[2] DOB: 11/15/1999
[3] According to sports-reference
[4] He was coached by Brandon Roy at Nathan Hale
Editor's Note: Evan Wheeler is a regular contributor to 'Basketball Scouting'. More of his work can be found here or at Denver Sidekicks, where he is also a regular contributor. He can be followed on twitter as @EvzSports